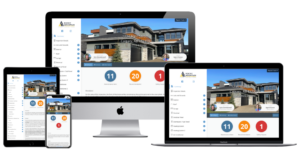 The house! LOL Well yes, the house but let's get specific. In a nutshell, if we can see it, we inspect it, a home inspection is a non-invasive, visual examination of the accessible areas of a residential property (lots and grounds, exterior, interior, and mechanical systems) meaning we cannot and do not remove finished sections of walls, artwork, floor coverings, furniture, and other items. Now the next question comes, "What if something was hidden behind or below something?" That is where our report is to be supplemental to Seller's Disclosure.
Ok so back to the original question "What gets inspected?"
Roof – Looking for any defects, as a courtesy only we offer the best guess estimate on how long the roof covers could last. All roofs could leak at anytime so regular maintenance is recommended.
Exterior – Everything we walk on, drive on, and park on, as well as the exterior coverings of the home specifically any penetrations, loose areas, and damage.
Basement, Foundation, Crawlspace & Structure – Looking for cracking, wall and door frame displacement, signs of active or past moisture penetration, framing, or structural concerns.
Heating – Does the heating system operate as expected by manipulating the thermostat? Is there heat from all the accessible registers/vents? We also make note of the last time it was cleaned/serviced if there is a label present and make recommendations for either or both if needed. We will document the age of the units for you as well.
Cooling – See Above 😊
Plumbing – We will review every visible inch of the water and drain lines looking for signs of past or current leaks (we run every faucet and flush every toilet several times). We will test the sump pump and evaluate the water heater.
Electrical – The exterior connections including the meter if accessible. The main electrical panel, any distribution (sub) panels, and any visible wiring. We test as many electrical outlets as we can access and make note of present smoke and carbon monoxide detectors (we do not test these as we do not know if they are tied to an alarm system or not)
Fireplace – We check the doors, and dampers and visually inspect for cracks/damage and the need for cleaning of flues/vents. We are also WETT Certified meaning we can inspect wood-burning fireplaces.
Attic, Insulation & Ventilation – Ok, will the house be warm in the winter? Well, more than just insulation and venting come into play here, but we will get our heads into the attic if possible, looking for adequate insulation, venting, and any visible damage to framing or sheathing with past or present moisture.
Doors, Windows & Interior – We will make sure as many as possible operate correctly looking for signs of failed window seals, leaks, or damage.
We also test any appliances to see if they turn on and to look for leaks. Appliances are tested as a courtesy only.
There you have it, and while not fully exhaustive this should provide a pretty good idea of What Gets Inspected.
Kyle